Tips to save money on weekends? Share them here!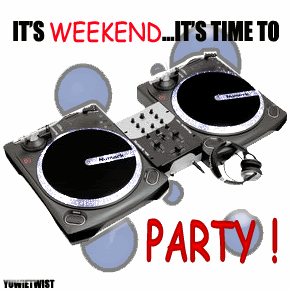 From Mondays through Thursdays, human beings can be total paragons of responsibility and discipline. But on Fridays, we go out for a laugh, but spend and drink, scream at the top of our lungs, then spend, and spend. But why is it that we do that?
The Pareto principle (also known as the 80-20 rule) states that for many events in life, roughly 80% of the effects come from 20% of the causes. With 5 work days a week, Friday equates to 20% of the work week. So one hypothesis would be that we're applying 80% of our play time and spending to that momentous evening.
Sure, we should cut ourselves some slack for making it through another week of the daily grind. But keeping the excesses of Friday (that so often ooze into Saturday and Sunday) controlled to some extent will prevent turning next week's Monday through Thursday into a financial guilt-fest.
How can you be a sociable creature, yet avoid abusing your bank account in the process? Let's get the "ruining all the fun" one out of the way first, and you can do as you wish with it:
1. You don't have to go out on weekend nights, do you? You probably have all kinds of things to do at home that you've been meaning to get around to for ages. This weekend could be that time. Besides, the drinking and dancing is all fun and games until somebody puts an eye out. The additional benefit: your mother would also stop asking you to apply yourself.
2. If you're invited to join your more well-off friends for a pricey dinner out, you can tell them you have plans, but will join them later. You'll get there in time to enjoy some Irish Whiskey Cheesecake, and with luck, they'll have drunk enough that they'll forget you weren't there all along.
3. If it's customary for each person in your posse to buy a round, go first. Nobody will remember who bought the fourth or fifth round. Don't shirk your drinking-buddy responsibilities, though. Making your phone buzz and then stepping out to "answer" it when it's your turn to buy is not cool.
4. Arrange to share cabs if possible, or better yet leave in time to get a train before service stops for the night. Particularly on Friday which is a work day followed by a raucous evening, everyone will understand if you say you're dog tired and want to beg off rather than continue the pub crawl.
The main thing to remember is that you're the same person Friday night and Saturday night that you are the other five days of the week, and while soul crushing self-denial isn't healthy, neither is waking up with a credit card slip for £253.39 at a place you have no recollection of going to.
(image courtesy of yuwietwist)