Yorkshire Water want to know what you get up to on the bog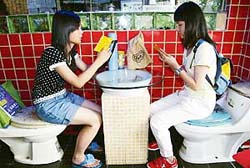 Yorkshire Water want to know what you're getting up to when you go for a shit. Now, the obvious answer is "I shit." Or, maybe you could answer "I piss."
I suppose the most exotic answer could be from men who go 'for a treat' which means having a sit down slash for no reason at all.
However, Yorkshire Water have sussed all those out. They've probably thought "go for a wank" is a likely outcome of a trip to the latrines. So what are the asking exactly?
Well, they're asking in a poll and the options are this:
What do you do on the loo?
-Read/do a crosswordRead/do a crossword
-Have a bite to eat
-Chat on the phone/text
-Browse internet on a laptop
Okay, I know some people take the paper in with them when they're curling one out and yeah, sending a text or whatever makes sense... but the other two?
Taking a laptop to the pan is a bit much surely? An iPhone maybe, but surely a shit doesn't take so long that you feel the need to take a laptop in with you? Which brings me to the other choice of having something to eat.
Is there a great Yorkshire tradition that I've not heard about where you replace everything falling out of your arse immediately? Do Yorkshirefolk have incredibly efficient digestive systems that see all food eaten instantly erupting from a Yorkshire bowel?
Or is this quite normal and I'm the only person in the world who doesn't feel the need to eat whilst I defecate into a pot of faecal matter covered in water?