The Dummies Guide to The Banking Crisis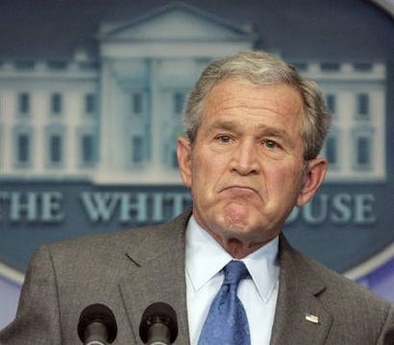 Don't worry. I don't know much more than Bush either. I still don't really understand what's going on fully.
This is why The Money Meltdown certainly provides a great starting point to understanding the current crisis.
This site clearly summarizes the banking crisis, with links to articles of varying complexity.
The site is sectioned into different 'chapters', from explaining the situation behind the current panic, along with a nice list of 15 things you need to know about the panic.
And not because I'm slow. I just 'don't have the time'. I now have it bookmarked, and plan to eventually read it.
Here's a selection of articles worth reading from the site:
Starting with Andrew Lombard's succinct summary gives a great head start.
For those of us a bit more brainy, you can try with this somewhat dry economics paper summarizing the lessons from 42 previous banking crises and a guide from the Brookings Institution on what the next President needs to do. Feel free to break it down for me.
American Life's Alex Blumberg and NPR's Adam Davidson also give the best introduction to the crisis. There is even a transcript, if you, like me, are incapable of multitasking on anything along with the ipod.
It also goes into previous banking crises, key facts in the bailout bill, a guide to the alternatives, advice for Joe 6 pack, and what's next.
So have fun reading, while I'm off to buy some firearms. 1,000 ammos per weapon is apparently a good start, according to my ex secret service friend.
See you on the road, Mad Max.